Top Entry Trunnion
Full Bore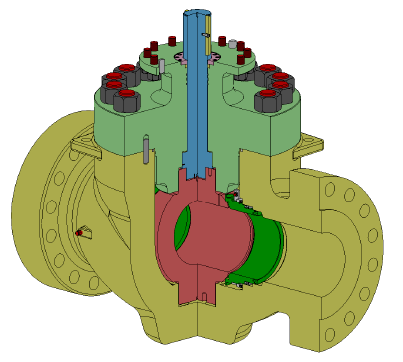 Ends Available

Red Bore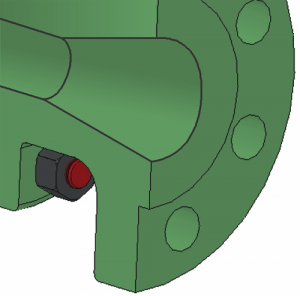 Features
Top entry trunnion ball valves have been specifically designed for off-shore & on-shore platforms, (such as gas, oil, hydrocarbons, water, sour fluids) refinery, seawater and severe service for the chemical and petroleum industries.
Top entry trunnion ball valves assure top reliability and safety even under severe environmental conditions.
– One piece body can have all the internal parts checked, removed and eventually replaced with the valves installed in line, saving maintenance time.
– Rigid and robust construcion, resistance to piping bending forces with trunnions support by self lubricated bearings.
– Fluid handled: water, sour or sweet crude oils and gases, dangerous/corrosive fluids, etc.
– Fire safe certified in accordance with BS 6755/API 607.
– Great versatility: the valves, with "ad hoc" modifications, can be supplied:
– metal to metal seated for high temperature service;
– for sub sea service;
– with special lip seals (typically for low temperature);
– with tungsten carbide, ENP or Stellite coated seats;
– for throtting service.
– For this valve is available also the cryogenic version.
– Better performance.
– Low torque.
– Smooth operation.
– Long life in all service conditions.

Top Entry Trunnion : 6000 / 6000 CR / 6000 HT

Notes

Full Bore

– All dimensions are in "mm".
– Here are indicated only standard valves dimensions; valves of other dimensions can be supplied on request.
– All weights are in "kg".
– Indicated weight does not include the valve opening/closing systems (levers, gear operators, actuators, etc…).
– Other dimensions available on request
Dimensions : Ansi class 150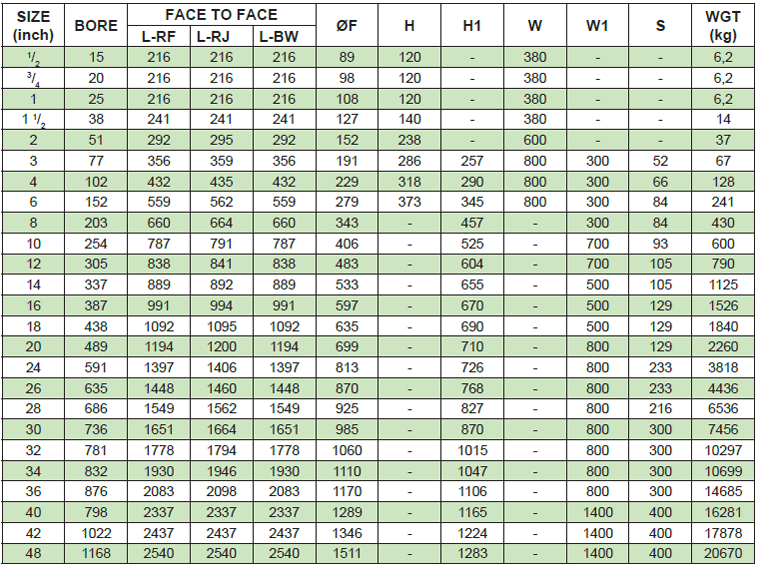 – The specification and drawings herein are indicative and not binding: the right is reserved to modify them at any time without prior notice

Top Entry Trunnion : 6000 / 6000 CR / 6000 HT

Notes

Red Bore

– All dimensions are in "mm".
– Here are indicated only standard valves dimensions; valves of other dimensions can be supplied on request.
– All weights are in "kg".
– Indicated weight does not include the valve opening/closing systems (levers, gear operators, actuators, etc…).
– Other dimensions available on request
Dimensions : Ansi class 150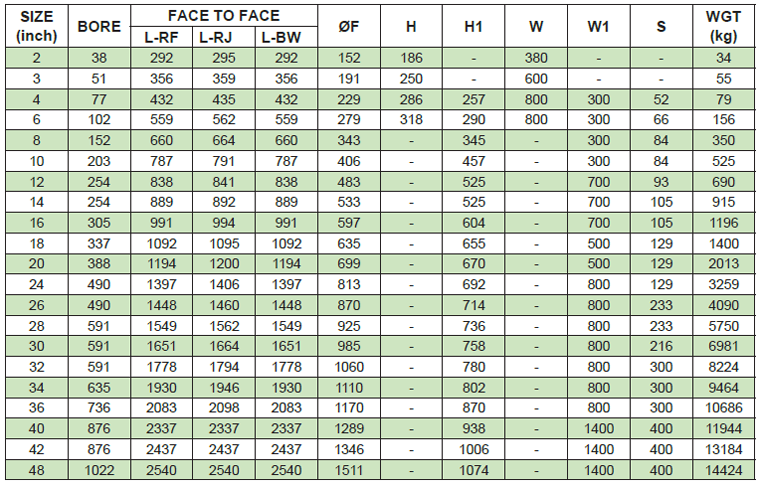 – The specification and drawings herein are indicative and not binding: the right is reserved to modify them at any time without prior notice

Top Entry Trunnion : 6000 / 6000 CR / 6000 HT

Notes

Full Bore

– All dimensions are in "mm".
– Here are indicated only standard valves dimensions; valves of other dimensions can be supplied on request.
– All weights are in "kg".
– Indicated weight does not include the valve opening/closing systems (levers, gear operators, actuators, etc…).
– Other dimensions available on request
Dimensions : Ansi class 300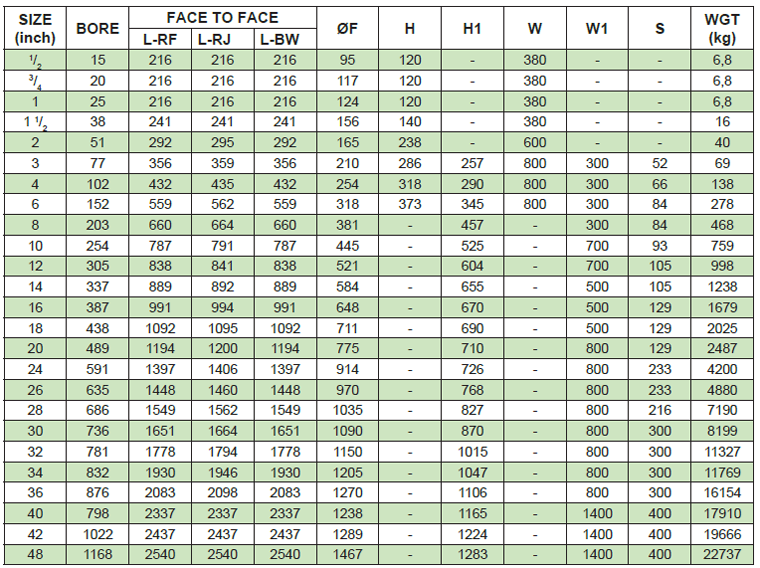 – The specification and drawings herein are indicative and not binding: the right is reserved to modify them at any time without prior notice

Top Entry Trunnion : 6000 / 6000 CR / 6000 HT

Notes

Red Bore

– All dimensions are in "mm".
– Here are indicated only standard valves dimensions; valves of other dimensions can be supplied on request.
– All weights are in "kg".
– Indicated weight does not include the valve opening/closing systems (levers, gear operators, actuators, etc…).
– Other dimensions available on request
Dimensions : Ansi class 300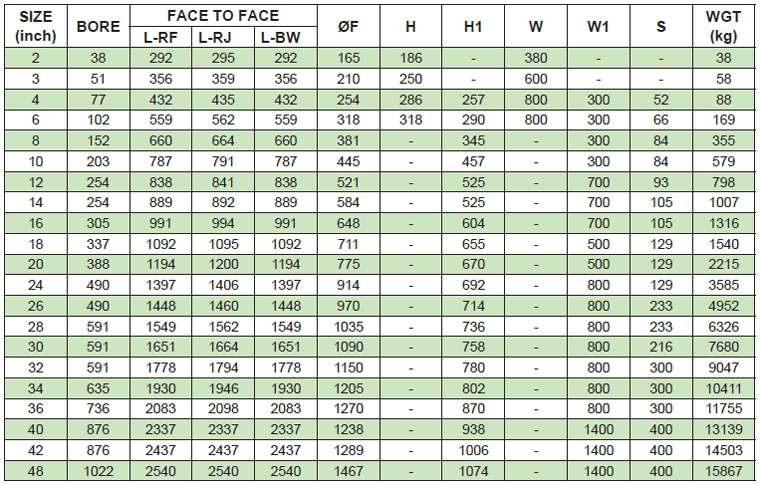 – The specification and drawings herein are indicative and not binding: the right is reserved to modify them at any time without prior notice

Top Entry Trunnion : 6000 / 6000 CR / 6000 HT

Notes

Full Bore

– All dimensions are in "mm".
– Here are indicated only standard valves dimensions; valves of other dimensions can be supplied on request.
– All weights are in "kg".
– Indicated weight does not include the valve opening/closing systems (levers, gear operators, actuators, etc…).
– Other dimensions available on request
Dimensions : Ansi class 600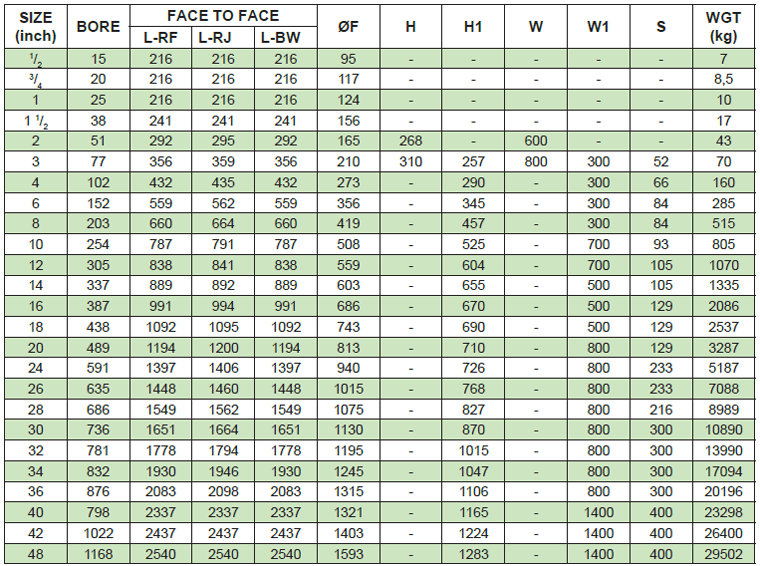 – The specification and drawings herein are indicative and not binding: the right is reserved to modify them at any time without prior notice

Top Entry Trunnion : 6000 / 6000 CR / 6000 HT

Notes

Red Bore

– All dimensions are in "mm".
– Here are indicated only standard valves dimensions; valves of other dimensions can be supplied on request.
– All weights are in "kg".
– Indicated weight does not include the valve opening/closing systems (levers, gear operators, actuators, etc…).
– Other dimensions available on request
Dimensions : Ansi class 600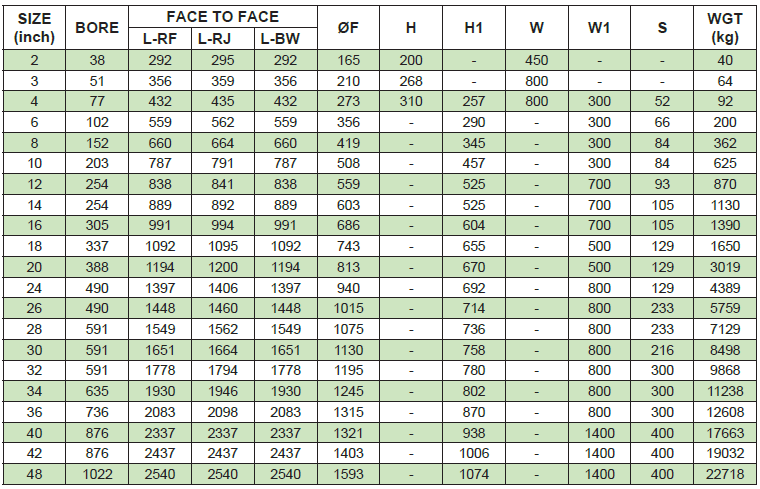 – The specification and drawings herein are indicative and not binding: the right is reserved to modify them at any time without prior notice

Top Entry Trunnion : 6000 / 6000 CR / 6000 HT

Notes

Full Bore

– All dimensions are in "mm".
– Here are indicated only standard valves dimensions; valves of other dimensions can be supplied on request.
– All weights are in "kg".
– Indicated weight does not include the valve opening/closing systems (levers, gear operators, actuators, etc…).
– Other dimensions available on request
Dimensions : Ansi class 900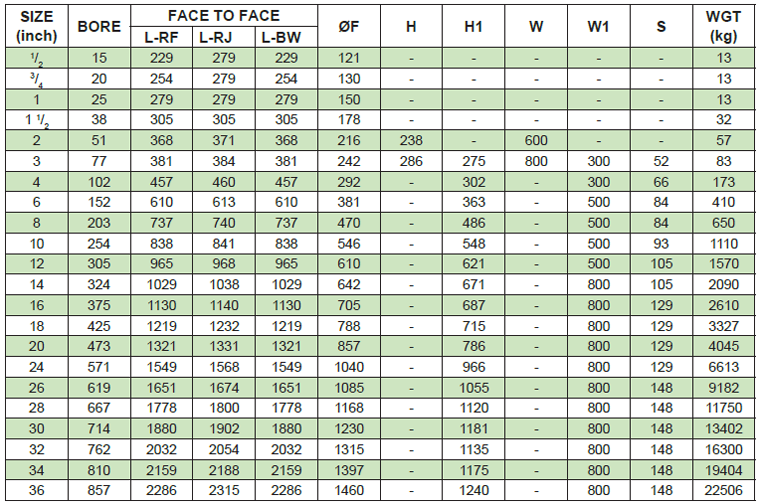 – The specification and drawings herein are indicative and not binding: the right is reserved to modify them at any time without prior notice

Top Entry Trunnion : 6000 / 6000 CR / 6000 HT

Notes

Red Bore

– All dimensions are in "mm".
– Here are indicated only standard valves dimensions; valves of other dimensions can be supplied on request.
– All weights are in "kg".
– Indicated weight does not include the valve opening/closing systems (levers, gear operators, actuators, etc…).
– Other dimensions available on request
Dimensions : Ansi class 900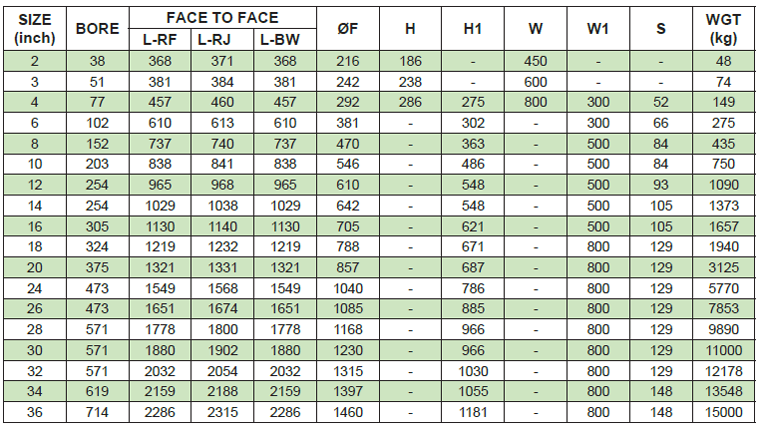 – The specification and drawings herein are indicative and not binding: the right is reserved to modify them at any time without prior notice

Top Entry Trunnion : 6000 / 6000 CR / 6000 HT

Notes

Full Bore

– All dimensions are in "mm".
– Here are indicated only standard valves dimensions; valves of other dimensions can be supplied on request.
– All weights are in "kg".
– Indicated weight does not include the valve opening/closing systems (levers, gear operators, actuators, etc…).
– Other dimensions available on request
Dimensions : Ansi class 1500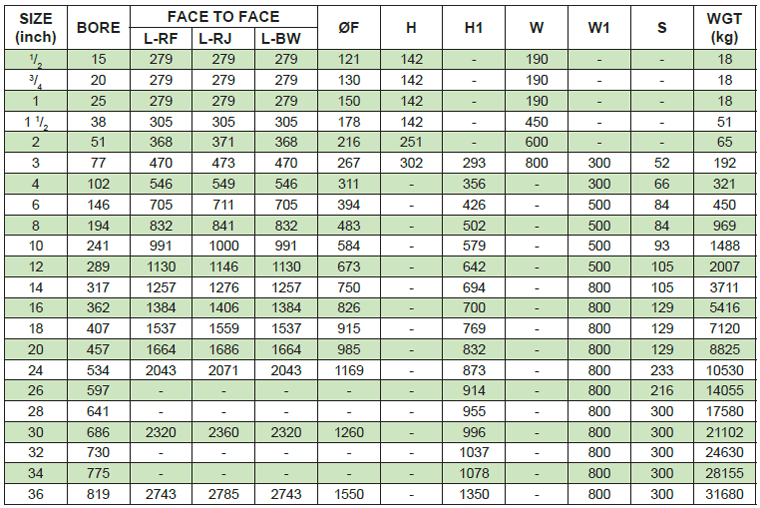 – The specification and drawings herein are indicative and not binding: the right is reserved to modify them at any time without prior notice

Top Entry Trunnion : 6000 / 6000 CR / 6000 HT

Notes

Red Bore

– All dimensions are in "mm".
– Here are indicated only standard valves dimensions; valves of other dimensions can be supplied on request.
– All weights are in "kg".
– Indicated weight does not include the valve opening/closing systems (levers, gear operators, actuators, etc…).
– Other dimensions available on request
Dimensions : Ansi class 1500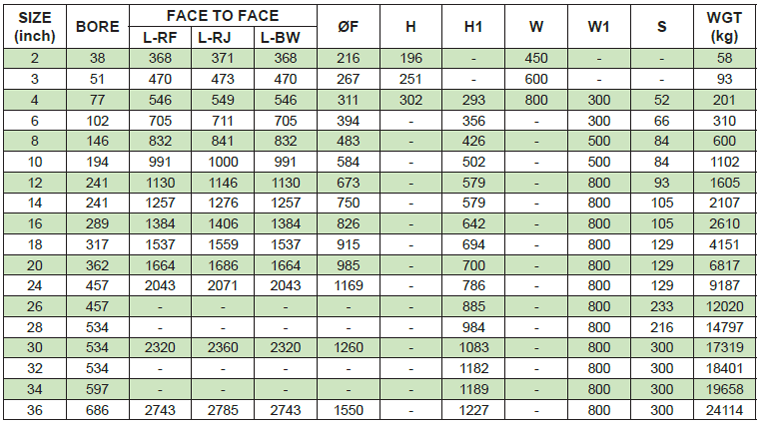 – The specification and drawings herein are indicative and not binding: the right is reserved to modify them at any time without prior notice

Top Entry Trunnion : 6000 / 6000 CR / 6000 HT

Notes

Full Bore

– All dimensions are in "mm".
– Here are indicated only standard valves dimensions; valves of other dimensions can be supplied on request.
– All weights are in "kg".
– Indicated weight does not include the valve opening/closing systems (levers, gear operators, actuators, etc…).
– Other dimensions available on request
Dimensions : Ansi class 2500

– The specification and drawings herein are indicative and not binding: the right is reserved to modify them at any time without prior notice

Top Entry Trunnion : 6000 / 6000 CR / 6000 HT

Notes

Red Bore

– All dimensions are in "mm".
– Here are indicated only standard valves dimensions; valves of other dimensions can be supplied on request.
– All weights are in "kg".
– Indicated weight does not include the valve opening/closing systems (levers, gear operators, actuators, etc…).
– Other dimensions available on request
Dimensions : Ansi class 2500

– The specification and drawings herein are indicative and not binding: the right is reserved to modify them at any time without prior notice

Top Entry Trunnion : 6000 / 6000 CR / 6000 HT

Notes

Full Bore

– All dimensions are in "mm".
– Here are indicated only standard valves dimensions; valves of other dimensions can be supplied on request.
– All weights are in "kg".
– Indicated weight does not include the valve opening/closing systems (levers, gear operators, actuators, etc…).
– Other dimensions available on request
Dimensions : Ansi class 5000

– The specification and drawings herein are indicative and not binding: the right is reserved to modify them at any time without prior notice

Top Entry Trunnion : 6000 / 6000 CR / 6000 HT

Notes

Red Bore

– All dimensions are in "mm".
– Here are indicated only standard valves dimensions; valves of other dimensions can be supplied on request.
– All weights are in "kg".
– Indicated weight does not include the valve opening/closing systems (levers, gear operators, actuators, etc…).
– Other dimensions available on request
Dimensions : API class 5000

– The specification and drawings herein are indicative and not binding: the right is reserved to modify them at any time without prior notice

Top Entry Trunnion : 6000 / 6000 CR / 6000 HT

Notes

Full Bore

– All dimensions are in "mm".
– Here are indicated only standard valves dimensions; valves of other dimensions can be supplied on request.
– All weights are in "kg".
– Indicated weight does not include the valve opening/closing systems (levers, gear operators, actuators, etc…).
– Other dimensions available on request
Dimensions : API class 10000

– The specification and drawings herein are indicative and not binding: the right is reserved to modify them at any time without prior notice

Top Entry Trunnion : 6000 / 6000 CR / 6000 HT

Notes

Red Bore

– All dimensions are in "mm".
– Here are indicated only standard valves dimensions; valves of other dimensions can be supplied on request.
– All weights are in "kg".
– Indicated weight does not include the valve opening/closing systems (levers, gear operators, actuators, etc…).
– Other dimensions available on request
Dimensions : API class 10000

– The specification and drawings herein are indicative and not binding: the right is reserved to modify them at any time without prior notice

Top Entry Trunnion : 6000 / 6000 CR / 6000 HT

Notes

Full Bore

– All dimensions are in "mm".
– Here are indicated only standard valves dimensions; valves of other dimensions can be supplied on request.
– All weights are in "kg".
– Indicated weight does not include the valve opening/closing systems (levers, gear operators, actuators, etc…).
– Other dimensions available on request
Dimensions : API class 15000

– The specification and drawings herein are indicative and not binding: the right is reserved to modify them at any time without prior notice

Top Entry Trunnion : 6000 / 6000 CR / 6000 HT

Notes

Red Bore

– All dimensions are in "mm".
– Here are indicated only standard valves dimensions; valves of other dimensions can be supplied on request.
– All weights are in "kg".
– Indicated weight does not include the valve opening/closing systems (levers, gear operators, actuators, etc…).
– Other dimensions available on request
Dimensions : API class 15000

– The specification and drawings herein are indicative and not binding: the right is reserved to modify them at any time without prior notice