Split Body Floating
Full Bore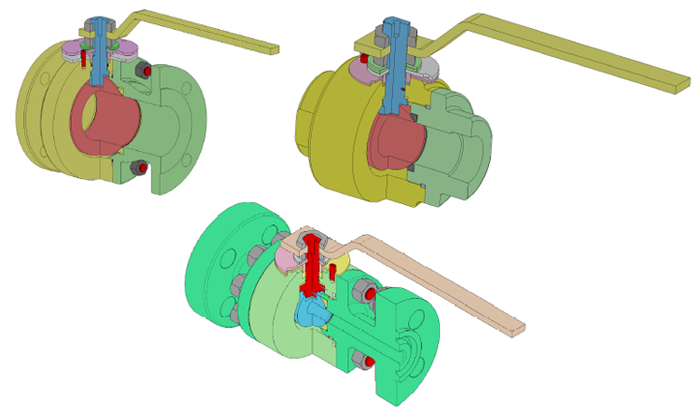 Ends Available

Red Bore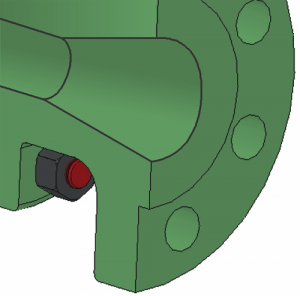 Features
In the floating split body ball valves the seat are house in proper recesses which are able to avoid their displacement; furthermore, the
operational life of the seats is extended.
In fact these recesses protect the seats from the erosion phenomena caused by the flowing media and avoid their "blow out".
It follows that the maintenance care is greatly reduced.
Even under severe operational conditions such as by toxic or corrosive media applications, the properly housed seats are able to perform
reliable and suitable service.
– Floating ball valve is the most simple design for a ball valve.
– Two or three piece bolted or threaded cover design, in accordance with the applicable standards.
– Rating class 150 to 1500 Lbs.
– Its limited number of components allows an extrtemely simple maintenance.
– Fluid handled: water, sour or sweet crude oils and gases, dangerous/corrosive fluids.
– Generally bi-directional positive sealing downstream.
– The ball is "floating" on the two plastic seals that grant the tight seal.
– The positive sealing is made through the force made by the pressure in the line that acts against the ball surface: the ball is pushed, in
its closed position, against the plastic seat.
– Firesafe cerdified in accordance with BS 6755/API 607.
– Great versatility, the valves, with "ad hoc" modifications, can be supplied:
– metal to metal seated for high temperature service; for slurry service, etc.;
– with special lip seals (for special fluids or temperature);
– with tungsten carbide, ENP or Stellite, coated seats.
– For this valve is available also the cryogenic version.
Valve Design
2 PIECES BOLTED BODY
– 1/2″ to 11/2″ Full Bore only class 150# & 300#
– 2″ to 8″ Full Bore 2″ to 10″ Reduced Bore class 150# & 300#
3 PIECES BOLTED BODY
– 1/2″ to 6″ Full Bore
– 2″ to 8″ Reduced Bore class 600# to 1500#
– 1/2″ to 1 1/2″ Full Bore 2″ Reduced Bore class 2500#

2 PIECES SCREWED BODY


– 1/4″ to 11/2″ Full Bore 2″ only Reduced Bore class 600# to 1500#

Split Body Floating : 3500
Notes

Full Bore

– All dimensions are in "mm".
– Here are indicated only standard valves dimensions; valves of other dimensions can be supplied on request.
– All weights are in "kg".
– Indicated weight does not include the valve opening/closing systems (levers, gear operators, actuators, etc…).
– Other dimensions available on request
Dimensions : Ansi class 600 – 900 – 1500

(1) Valve in execution only reduced bore
(2) L (SWL) = end to end long dimension
– Nipples lenght and schedule on request
– The specification and drawings herein are indicative and not binding: the right is reserved to modify them at any time without prior notice

Split Body Floating : S7100 / S7100 CR / S7100 HT
Notes

Full Bore

– All dimensions are in "mm".
– Here are indicated only standard valves dimensions; valves of other dimensions can be supplied on request.
– All weights are in "kg".
– Indicated weight does not include the valve opening/closing systems (levers, gear operators, actuators, etc…).
– Other dimensions available on request
Dimensions : Ansi class 150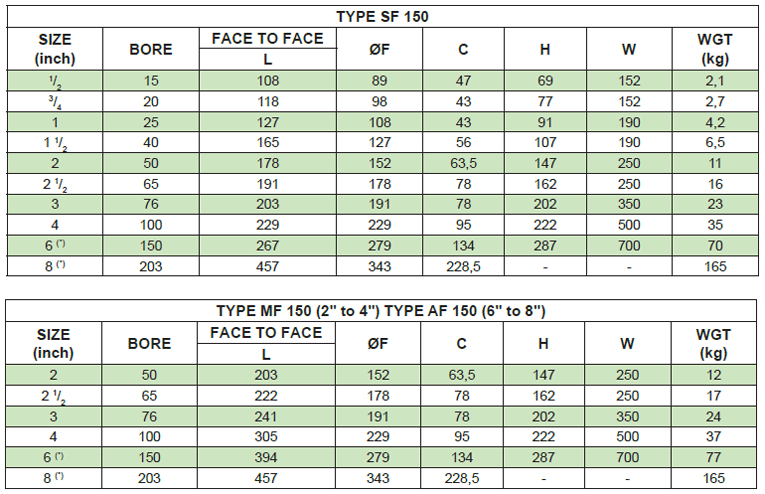 (*) Size range recommended with gear operator.
– The specification and drawings herein are indicative and not binding: the right is reserved to modify them at any time without prior notice

Split Body Floating : S7100 / S7100 CR / S7100 HT
Notes

Red Bore

– All dimensions are in "mm".
– Here are indicated only standard valves dimensions; valves of other dimensions can be supplied on request.
– All weights are in "kg".
– Indicated weight does not include the valve opening/closing systems (levers, gear operators, actuators, etc…).
– Other dimensions available on request
Dimensions : Ansi class 150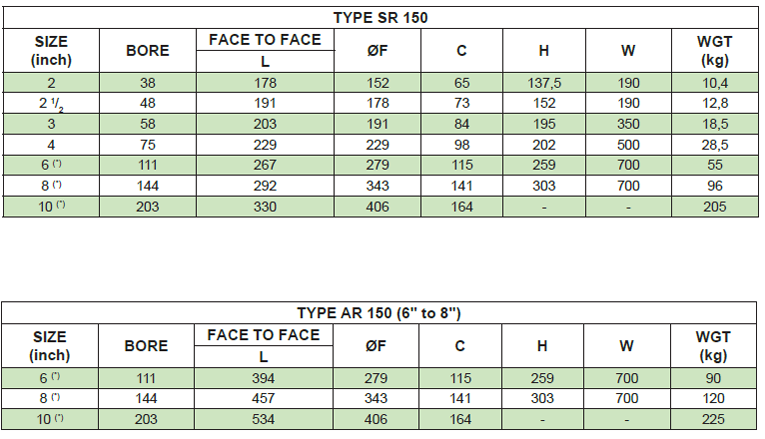 (*) Size range recommended with gear operator.
– The specification and drawings herein are indicative and not binding: the right is reserved to modify them at any time without prior notice

Split Body Floating : S7100 / S7100 CR / S7100 HT
Notes

Full Bore

– All dimensions are in "mm".
– Here are indicated only standard valves dimensions; valves of other dimensions can be supplied on request.
– All weights are in "kg".
– Indicated weight does not include the valve opening/closing systems (levers, gear operators, actuators, etc…).
– Other dimensions available on request
Dimensions : Ansi class 300


(*) Size range recommended with gear operator.
– The specification and drawings herein are indicative and not binding: the right is reserved to modify them at any time without prior notice

Split Body Floating : S7100 / S7100 CR / S7100 HT
Notes

Red Bore

– All dimensions are in "mm".
– Here are indicated only standard valves dimensions; valves of other dimensions can be supplied on request.
– All weights are in "kg".
– Indicated weight does not include the valve opening/closing systems (levers, gear operators, actuators, etc…).
– Other dimensions available on request
Dimensions : Ansi class 300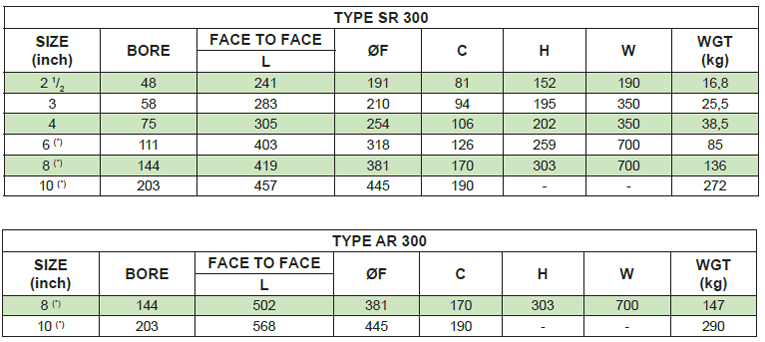 (*) Size range recommended with gear operator.
– The specification and drawings herein are indicative and not binding: the right is reserved to modify them at any time without prior notice

Split Body Floating : 3P / 3P CR / 3P HT

Notes

Full Bore

– All dimensions are in "mm".
– Here are indicated only standard valves dimensions; valves of other dimensions can be supplied on request.
– All weights are in "kg".
– Indicated weight does not include the valve opening/closing systems (levers, gear operators, actuators, etc…).
– Other dimensions available on request
Dimensions : Ansi class 600 – 900 – 1500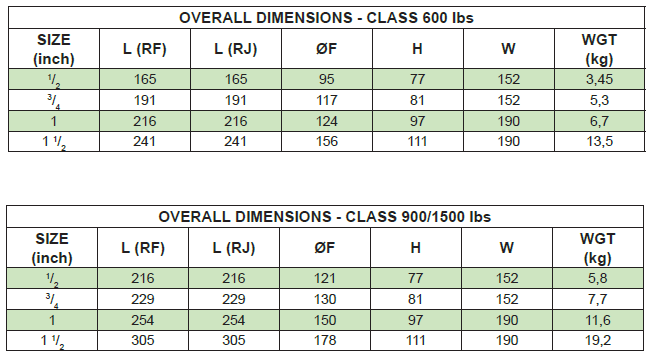 – The specification and drawings herein are indicative and not binding: the right is reserved to modify them at any time without prior notice

Split Body Floating : 3P / 3P CR / 3P HT

Notes

Full Bore

– All dimensions are in "mm".
– Here are indicated only standard valves dimensions; valves of other dimensions can be supplied on request.
– All weights are in "kg".
– Indicated weight does not include the valve opening/closing systems (levers, gear operators, actuators, etc…).
– Other dimensions available on request
Dimensions : Ansi class 2500


– The specification and drawings herein are indicative and not binding: the right is reserved to modify them at any time without prior notice

Split Body Floating : S7100 / S7100 CR / S7100 HT

Notes

Full Bore

– All dimensions are in "mm".
– Here are indicated only standard valves dimensions; valves of other dimensions can be supplied on request.
– All weights are in "kg".
– Indicated weight does not include the valve opening/closing systems (levers, gear operators, actuators, etc…).
– Other dimensions available on request
Dimensions : Ansi class 600 – 900 – 1500


(*) Size range recommended with gear operator.
– The specification and drawings herein are indicative and not binding: the right is reserved to modify them at any time without prior notice

Split Body Floating : S7100 / S7100 CR / S7100 HT

Notes

Red Bore

– All dimensions are in "mm".
– Here are indicated only standard valves dimensions; valves of other dimensions can be supplied on request.
– All weights are in "kg".
– Indicated weight does not include the valve opening/closing systems (levers, gear operators, actuators, etc…).
– Other dimensions available on request
Dimensions : Ansi class 600 – 900 – 1500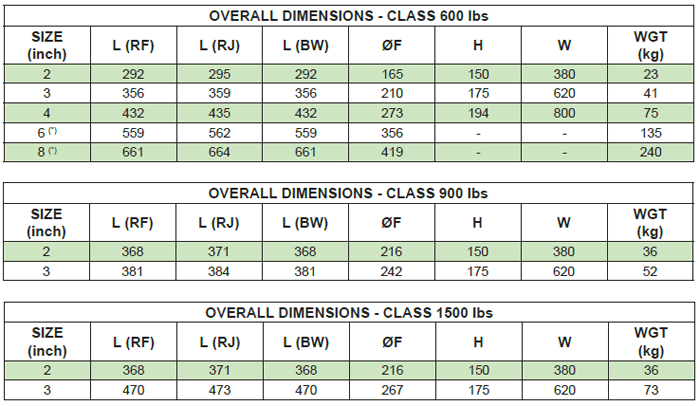 (*) Size range recommended with gear operator.
– The specification and drawings herein are indicative and not binding: the right is reserved to modify them at any time without prior notice

Split Body Floating : 3P / 3P CR / 3P HT

Notes

Full Bore

– All dimensions are in "mm".
– Here are indicated only standard valves dimensions; valves of other dimensions can be supplied on request.
– All weights are in "kg".
– Indicated weight does not include the valve opening/closing systems (levers, gear operators, actuators, etc…).
– Other dimensions available on request
Dimensions : Ansi class 600 – 900 – 1500


(1) Valve in execution only reduced bore
– Nipples lenght and schedule on request
– The specification and drawings herein are indicative and not binding: the right is reserved to modify them at any time without prior notice